Thank you for visiting our site. As an up-to-date business, we want to give you the opportunity to stay in touch with our business and our offers. Scan the QR Code Below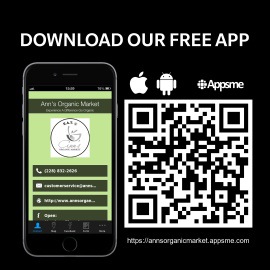 Click the More Option for Coupons and Deals. Select the E.A.T. Tab Under the More Option for our Rewards Card.

If you are not familiar with our business and your first contact with us is online: We would be pleased to hear from you! Please let us know what your needs and questions are, we will be more than happy to help.

We have been in business for over 4 years on the Mississippi Gulf Coast. We Sell Only USDA Certified Produce and Food Products to our customers. We also sell wild caught Fish, Personal Care Products and Quality Supplements.

Our business is located in Raybourn Plaza at:

12178 -D HWY 49 North in Gulfport, Mississippi.

Our Hours of Operation:

Monday - Thursday 9:00 AM - 5:00 PM ** Fridays 10:00 AM- 6:00 PM

You can reach us at 228-832-2626. We are looking forward to hearing from you.

You can also contact us at our e-mail address: customerservice@annsorganicmarket.com

Please Stop by We look forward to Serving You.